About Us
Facts about Howe Memorial Library
Howe Memorial Library serves the Village of Breckenridge and the Townships of Bethany, Emerson, Jasper, Lafayette, Porter and Wheeler.  Our service area population is 5,531.
The Library has over 19,000 items available, including books, books on CD's, DVD's and music CD's.  We have over 8,000 patron visits annually, with over 18,000 items checked out by patrons.  
The Library has 4 computer stations for patron use, and Chromebooks available for young adults to check out and use during their library visit.  Patrons annually use the Library computers more than 1,900 times.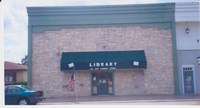 The Library is wireless; patrons may bring in and use personal wireless items. You can access our WIFI outside of the building when we are closed. 
The Library has an electronic catalog system for patron use.
The Library participates in MelCat, the state-wide catalog for patron-initiated borrowing from over 300 Michigan libraries.
We also make black & white copies and send faxes.